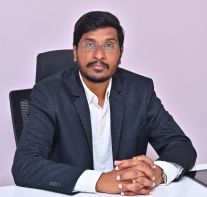 MR. RAGHU GOWDA
FOUNDER AND MANAGING DIRECTOR
Armed with an MBA from a reputed institution, Mr. Raghu Gowda honed his enterpreneurial expertise in all the spheres of the building and construction industry while working for corporate institutions. After scaling his career to new heights and learning the nuances of the trade, his growth mindset compelled him to join hands with Ruchira Projects as its business partner. Redefining what's possible for real estate investors by pushing boundaries then fuelled his desire to venture on his own, and thus he envisioned Aarna Projects in 2019.
MRS. SHWETHA CHANDRA GOWDA
DIRECTOR
Responsible for streamlining the company's operations, Mrs. Shwetha Chandra Gowda holds a MBA HR, and is a Director. Before Aarna Projects, she held a number of executive positions at many eminent organisations. Embodying professionalism, she lends a helping hand in administering the team while driving measurable growth for the company.

Mukesh Kumar
IT Employee
We are happy to be a part of Ruchira Aarna at Aarna Projects, From the purchase of flat till the delivery of the flat has been timely, The sales team has been extremely professional and cooperative. Thank you and we appreciate the help and support

Mukund Puranik
Business Man
I am so delighted to be part of Aarna Projects. The Most trustable builders with excellent acceptance of customers' wish. So happy for the way of receiving the customers. I am so satisfied with the services given by the entire crew. "Worth For Your Each Rupee"

Mr. SAK Jeelani
Bank Manager
Their services are among the best to be honest. Making everything simple and easy, even for beginners and novices like me and my wife.

Abhilash
HR Manager
My overall experience with Aarna Projects is excellent, over all quality of flats is good, I would recommend my friends/ relatives. I am totally satisfied.

Kamalakar rao
IT Consultancy
Aarna Projects are very dedicated to home development and an open organization to work with . They ensure customer satisfaction at all times. They leave a customer smiling